2018 is coming to an end, everyone is reviewing the past. In honor of this time of reflection, inspiration, and drive we here at A&O Realty have come up with 6 goals to consider as you plan for the year ahead and consider buying a house.
Goal #1:
Home Buyers:
When choosing your new home or planning out your budget for the new home, carefully consider the neighborhood, schools, and work commute you will have. A big kitchen, bathtub, and large closet might seem like major necessities in the short term, but long term you want an area that is going to be able to meet all of your emotional and time management needs. A kitchen and bathroom can always be updated, and storage space can always be managed, however what you cannot change about your home is the location. Location may also affect your budget one neighborhood may have a higher price point than another. Goal one find your ideal neighborhood and find out how much the home are going for. From there you can determine your savings goal for your new home. Ideally 15-25% down is recommended.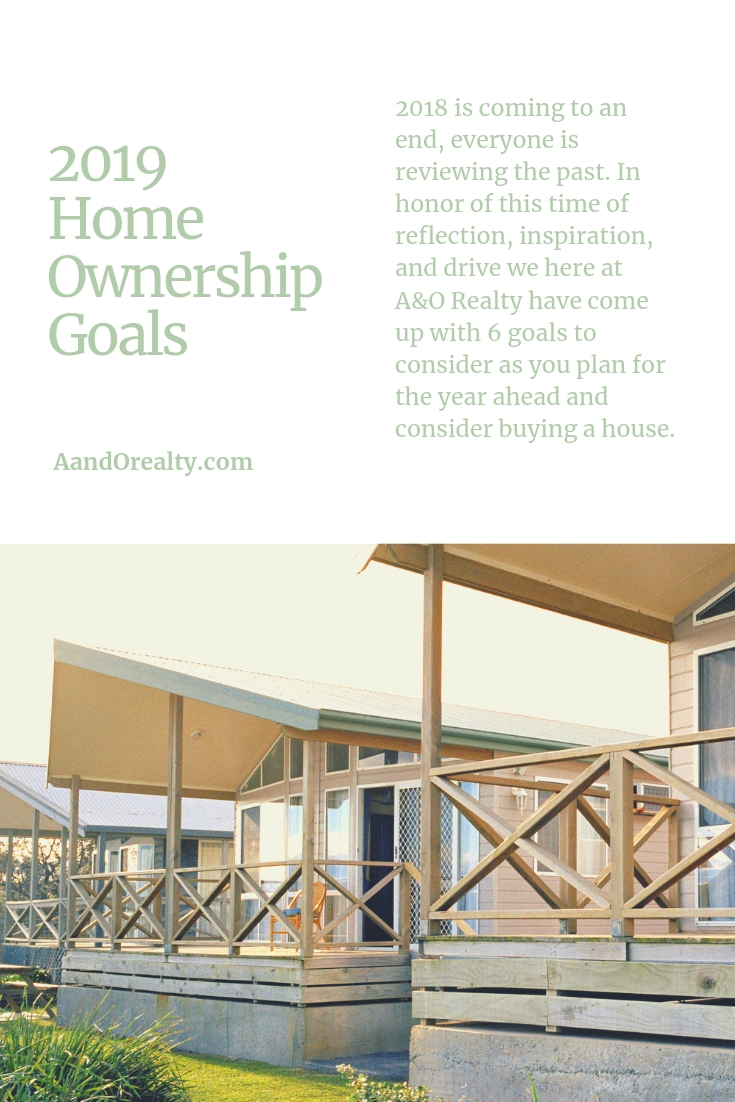 Goal #2:
Home Owners:
Are you a current home owner, a brand new home owner? Are you settled into your home and wondering to yourself, okay I bought this place, now how do I take care of it? Every home owner should have a home maintenance and cleaning schedule. Get yourself organized in the new year by writing down and scheduling your maintenance. Here are some great articles from around the web on general maintenance and home care.
Your Fall and Winter Home Maintenance Check List
Goal #3:
Home Buyers:
You have the neighborhood you want in mind, the budgeting goal you need in order to get there. Now its time to consider how you will save for that goal. Pinterest has some amazing money saving challenges. Here are some of our favorites.
Goal #4:
Home Owners:
You've got your plan of action for maintaining your home this next year, but have you budgeted for home emergencies? Have you budgeted for a busted window, broken fridge, or a/c issue? There are many budgeting tools out there, and everyone has one that works better for them, however when budgeting for the unexpected it may also pay off to consider options like added insurance. Review your home owners insurance policy, find out what is and isn't covered, see if there are other plans out there that may benefit you to purchase. Consider appliance insurance for things like your fridge, washer/dryer, and a/c unit. Does your home owners insurance cover natural disaster, flooding, fire? Check out these great articles for how to be financially prepared for any emergency.
Goal #5:
Home Buyer:
You found your neighborhood and saved your pennys. You are ready to purchase your new home in the new year. How do you find the home that is right for you? It all comes down to the right realtor. See our article 5 reasons you should hire a realtor. You want a realtor who is going to understand your priorities, while also being conscious of your dreams. Buying a new home is a big step. Find a realtor who understands your Must Haves, Can't Live Without, and Would Like to Have. See if you can also partner you with a great Loan officer or banker who can easily explain your financing options. Maybe your neighborhood and budget is best handled with a fixer upper, perhaps your on track for that move in ready. No matter what your budget, A&O Realty Services prides themselves on finding the home that is going to work for you long term.
Goal #6:
Home Owner:
Now that your "house work" is done, it is time to enjoy the home you own. Maybe this year is bringing forth a new chapter for you. While you are working on creating the new you, give your house once over. Could it use a facelift too? Maybe its time to remodel that bathroom or spruce up the decor. Nothing screams hello new year, hello new me, like a new living room rug and fresh coat of paint to brighten up your space. Check out our Pinterest Page for ideas on how to Decorate, update, or otherwise renovate your home.
At A&O Realty services we support our clients through all their real estate interests, whether your looking to buy rent, or sell in the upcoming new year please contact us. Let us know what your think about our home ownership goals for the new year.